On May 20th 2010 H&M and Designer Against Aids are going to launch the third campaign and the new collection in 32 countries worldwide.
Since 2008, Designers Against Aids has successfully collaborated with fashion giant H&M, launching the global Fashion Against Aids campaigns. The first campaign immediately turned out to be a success, and the idea of combining fashion with the message of safe sex was being embraced by the media and the artists, who took the time to design one of the T-shirts for the collection. Not only the message was spread, but there's also the fact that 25 % of the sales price of all FAA garment was directly donated to HIV/AIDS awareness projects.
In early 2008 the first campaign was supported by Rihanna, Chicks on Speed, Good Charlotte, Henrik Vibskov, Jade Jagger, Justice, Katharine Hamnett, My Chemical Romance, Rufus Wainwright, Scissor Sisters, The Cardigans, Tiga, Timbaland, Justice and Ziggy Marley.
All of these motivated well-known artists designed an exclusive shirt which was appreciated by absolutely everybody, from fans to fashionistas.
In spring 2009 the second Fashion Against Aids campaign hit the H&M stores in 30 countries, which meant that the collection was released in nearly 1000 stores. Once again, successful celebrities and artists showed their support by designing exclusive pieces for the Fashion Against Aids clothing line to phenomenal success: Katy Perry, Yelle, Dita Von Teese, Estelle, Katharine Hamnett, Roisin Murphy, N.E.R.D., Tokio Hotel, Yoko Ono, Moby, Cyndi Lauper, Dangerous Muse and Robyn.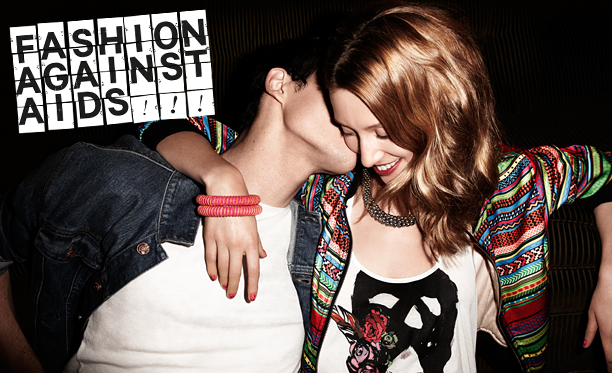 FASHION AGAINST AIDS 2012
The new Fashion Against AIDS collection is powerful, strong and full of attitude. The collection is available in select stores!