News Release
New California Fitness spokesperson Richie Jen (Ren Xianqi) in Singapore
Singapore, February 23, 2013 – J.V. Fitness Limited, trading as "California Fitness," announces Taiwanese singer and actor, Richie Jen (Ren Xianqi), as its new spokesperson throughout Asia, leading the gym's various fitness programs for busy professionals demanding a fighting fit physique and health.
Every festive season bring lots of joyful eating, and a busy lifestyle for many professionals is especially counterproductive when it comes to maintaining health and fitness. For many, the most resistant area to lose persistent fats is the tummy, which in turn, has a large part to play in the core strength of a person.
Richie is known for his many ballads of optimism, love and positive energy. His long filmography has always brought entertainment and joy to many. Richie has always been seen as an epitome of health and fitness among fellow celebrities in Taiwan, and loves to maintain his physique and health while he juggled his busy music and acting careers, his new business, and his family with two adorable kids.
"I am very honored to be the new California Fitness spokesperson. I have always been highly selective for brand endorsements, and maintained that any brand I represent must be a good fit, and we must be able to bring a positive message to the community," said Richie Jen (Ren Xianqi).
"I am impressed by California Fitness in its revolutionary fitness concepts, the spaciousness of its gyms, the comprehensive array of fitness equipment for aerobic and resistance training, professional fitness trainers with passion and encouragement."
Fighting Fit for any occasion
In more recent years, Richie has been dedicating most of his time in acting, and with the heavy schedule and particular requirements of films, Richie has found less time in his schedule to maintain his physique and health, until he found the rich and exciting spread of fitness programs and equipment at California Fitness gym, all of which are specially developed for busy professionals on the move.
With the variety of programs and equipment at the California Fitness gym, Richie has kept up his ideal fitness and physique demanded by the competitive entertainment industry, with 30 minutes per workout, according to him. As with most people who hold down demanding careers, with a desire to care and love their families, and to maintain health as well, the more
sustainable fitness regimes have to be short in duration (30 minutes would be ideal), and a combination of aerobic and resistance training to condition cardiovascular fitness as well as musculoskeletal strength. With the increasing bombardment of many stimuli in our society, people also like their fitness programs tailored with contemporary music and some choreographed routines.*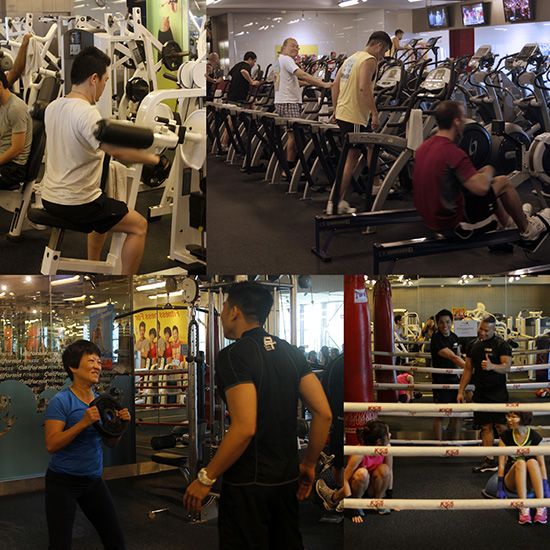 Image credits to hpility.blogspot.sg
"Many of our customers are facing this challenge of trying to get the most returns on their exercise and fitness regimes, without spending too much time in the gym or in the field," says Mr. Zen Lee, Fitness Manager, California Fitness Singapore. "We would recommend a tailored program to fit into the little pockets of time our customers' can invest in their fitness amidst their busy work and family schedules. A great workout program we can develop for customers would be short, targeted, highly energetic, and great fun."
"We are very pleased to be associated with Richie Jen, who represents the summit of the 'everyday hero,' someone who is a busy professional at the echelons of his career, and cares for his family, career and health in an exemplary and admirable manner," says Mr. Anthony Pan, Senior Vice President, California Fitness Singapore & Shanghai. "We hope to bring the optimistic and positive energy of what Richie represents to our members, and to inspire them to greater heights of fitness and health, while scaling the heights of their own careers, and the loving and caring for their families."
***
For more information on California Fitness' many programs and their availability, and demonstrations by professional certified trainers in Singapore, call 6302 5376, email singapore-marketing@californiafitness.com.sg, or visit http://www.californiafitness.com.sg.
About Richie Jen (Ren Xianqi)
Richie Jen (Ren Xianqi), 46 years old, is known for his many ballads throughout Asia, with discography that includes "Heart too soft" (1996), "Hey girl look this way" (1998), "Wanderer" (2000), "A wonderful man" (2003), and "Daredevil spirit" (2011), among many others. Richie's filmography includes "No Sir 3" (1994), "Marry a rich man" (2002), "Seoul raiders" (2005), "Happy birthday" (2007), "Flirting scholar 2" (2010), "Mayday 3DNA" (2011), "Scheme with me" (2012), and many others. He was born in Changhua County, and graduated from the Physical Education Department of Chinese Culture University (CCU), Taipei.
About California Fitness
California Fitness is acknowledged as the leading fitness centre chain in Asia. Our first club opened in Hong Kong in July 1996 and pioneered the mega gym concept in the region. This club was such a huge success that we embarked on further expansion within Hong Kong and into Asia including Singapore and mainland China. Today, we have 16 fitness centers across Asia.