After such a long hiatus from blogging due to ENDLESS iLead and internship reports, business case studies and work, I'm finally seeing some light at the end of the tunnel. 8 DAYS to my long overdue freedom! No, not to the end of my internship at Nuffnang/ Jipaban though that inevitably is part of it, but to the end of a chain of working weekends and the beginning of a partially new life. "I CAN'T WAIT" does not do justice to what I really feel about all this work. I'VE OFFICIALLY HAD ENOUGH AND I SERIOUSLY NEED TO PLAY AND GET A LIFE BEFORE I LOSE MY FRIENDS! *gasp audibly*
It's been raining so bad these days and as I'm blogging the rain just can't stop falling on my head. Kidding. On the rooftop, because I'm indoors. Jealous? You people out there in the rain?
NO FLOODS anymore, please? Singapore doesn't need this kind of reputation, certainly not at my beloved Orchard Road, at least!
Wanna see my newest purchases online? I can't stop shopping, are you even surprised?
Almost Famous is my MOST FAVOURITE SHOP EVER! I can buy 4-5 dresses at a go if I have not controlled my instincts with ALL my might.
The new model Sevara M (Upfront Models) is SO HOT and she carries the apparels really really really well.
Look at these beauties from AF's latest collection!
Pleated Collar Dress – I got the silver one!
Off Shoulder Fashionista Print Dress in Purple – my favourite!
Naval Admiral Dress
Little Hearts Dress
Bow Baby Top in Black/White
I also got this unique little pretty dress from Kizzofgoddess in Jipaban!
Love shopping at Jipaban, especially now that they have integrated the Facebook utility feature! My friends can now comment on my purchases and items on the Egg-On List and Wishlist!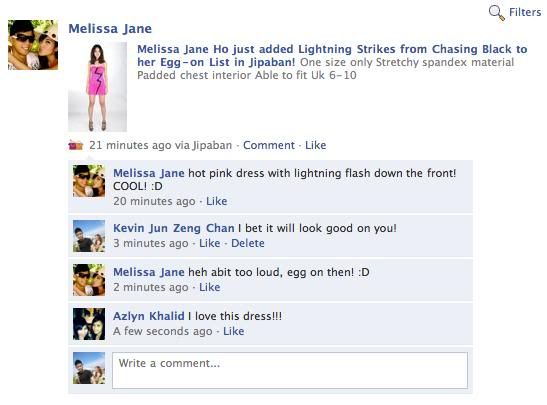 AWESOME POSSUM!!!!
And probably my love for Almost Famous has been recognized…*Awwww*
Of course I would love to! But then there's another opportunity at Louis Vuitton's Managment Trainee Programme…I will celebrate for 3 days 3 nights if I really get in! -looks at Azyln-
Love their Cosmic Blossom collection!
***
And in one of my flea bazaar missions for Jipaban, I was captured on camera for
"I love how girls readily pose for us when it comes to the camera. Her outfit and smile shouts CONFIDENCE from top to toe! This is the way you all should feel everyday! To get her look, try these colourful tube dresses from FCUK and a black leather jacket. If you still feel that something is missing, it must be the stockings! I would opt out in a weather like this though
"
Thank you for the compliment, trend spotters! I'm rather humbled
But this picture pai until not very chio leh. Hair messy! Ooops!
And here's Maylene, who got spotted too! Kim Kardashian, OMG!
***
Dear readers, I'm also conducting a series of market research for my own label, will let you all know about it soon!
Meanwhile, please comment if you 'like' these shoes as I am currently sourcing for designs!
Readers who comment most frequently will receive a FREE pair of shoes from me, choice of design is entirely YOURS!
However, please note that as the designs are not confirmed, you may only choose the shoes from my upcoming collections. You will also be on my mailing list (pioneer batch gets 10% off) !!!

Please comment in this format:
Name:
The Design You Like: No.2 (example)
Contact No./Email Address:
Any other feedback: (you may let me know what other shoe designs you like!
)

Comments will be screened.

THANK YOU IN ADVANCE FOR YOUR SUPPORT!
1.
2.
3.
4.
5.

6.
Keep the comments coming!